Description
TITAN TV  24 hours premium iptv
The 24 hours TITAN TV IPTV TITANS package allows you to watch thousands of premium channels and tens of thousands of VOD movies in the best quality, as well as test our service before extending it for an extended period of time.
With the 1-day package and other packages of the OTV IPTV subscription, you can access all English, Arabic, and international channels.
Subscription Details
Full channels package Included Arabic / Asia / Europe / Latin America / North America
Various types of programs: Movies / VIP Series / Cartoon / Music / News / Discovery / Life
KIDS Premium channels:  Carton Films / Music / Disney+ Action
Premium Sports channels: UK Sports / Arabic Sports / France Sports / Germany Sports / USA Sports / Canada Sports
Live Channels: With over 9,000 English and foreign channels: Arabic, Saudi Arabic, UAE, Turkey, Kurdish, Kuwait, USA, Canada, Mexico, UK, AUS, NZ, FR, DE, IT, Spanish, Argentina, Colombia, Peru, Portugal, Brazil, Africa, South Africa, Kenya, Malaysia, Indonesia, Thailand, Philippines, Korea, Japan…
Movies (VOD): over 20,000 movies of all genres, including weekly updates of recent box office movies
Series (VOD): more than 15,000 series, including regular updates of all your favorite series
What is  IPTV TITAN TV ?
Our IPTV subscriptions include over 18,000 channels (movie channels, sports channels, series and entertainment channels, documentary channels, kids' channels, music channels, and 35,000 VODs (series, movies, documentaries, anime, kids, etc.).
720p/1080p/4K channel quality
24/7 technical assistance and support
Free updates
No adult channels
No startup fees
Updated multilingual VOD
Time-Shift & EPG
Uptime 99.99%
Required Internet speed: With our 100% streaming service, you must have at least 8 Mega Internet connections to enjoy IPTV service without Freez. It is always best to connect your Android box or smart TV with an Ethernet cable to guarantee the stability of the Internet speed needed to operate the channels and VOD. You can test your connection at http://www.speedtest.net
6 Mbps for SD and HEVC channels
8 Mbps for HD channels
12 Mbps for HD channels
20 Mbps for 4K channels
Important note for the Smart IPTV application: Make sure that your "SMART IPTV" application is fully activated. The application offers you a free trial period of 7 days, after which you must activate it for 5.49€ on the official application website.
You will get over than 5500 HD/SD channels and videos on demand of all the categories you want for yourself and for your family: Movies, series, documentaries, mangas, cartoons, sports…
While installing our IPTV SUBSCRIPTION you will enjoy a wide choice of American channels, Latino, UK, Canadian, Europe, Arabic, African, Asian… All the Local and international channels to enjoy. VOD Movies and Series categories plus 24/7 Movies, 24/7 TV Shows, and 24/7 Kids with many content available. We keep adding more special categories to make it the best IPTV service on the market.
You can learn how to use  IPTV TITANSin the best IPTV player here.
IPTV test devices: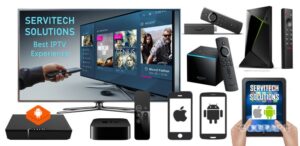 Our IPTV TITAN TV subscriptions are compatible with.
All Android devices with IPTV Smathers (phones, tablets, Box, Box, etc. ……)
All Smart TVs
Mag Boxes (Mag 250 – Mag245 – Mag254 – Mag255 – Mag256 – Mag257 – Mag270) – Mag275 – Mag350 – Mag352 – Mag324 – Mag420 – Mag424 – Mag424A – Mag424a – Mag322…)
All types of Enigma2 receivers (Dreambox 800, VU +…)
KODI on PC, Xbox, Android, iOS
PC, Xbox
iOS (iPhone, Mac, AppleTV, etc.)
Formuler z/Z7+
Amazon Fire TV Stick 4K
FAQ
How soon can I use the service?
You will get your subscription within 4 hours, but usually, all subscriptions are sent within 1 hour after you place your order.
How to use your IPTV TITAN TV subscription on your Android box
You can install the OTV App to your Android Box and use it, our 
IPTV subscription
 is also compatible with the best IPTV apps, with any order we will provide a link to the m3u file that can be read using almost all IPTV apps that exist on Android, the most famous ones are IPTV Smarters Pro, Smart IPTV, Kodi, SSIPTV, VLC, MX Player, Perfect Player IPTV, GSE Smart IPTV…